My wife saw the famous Tik Tok "grinder sandwich" and made it for one of our latest Packer party. It was FANTASTIC and a crowd favorite. It got her thinking, what if we followed my [No Flip Burgers – Pellet Grill Addicts] recipe and turned that into a smoked grinder burger?!

Well, whenever my wife starts thinking up creations you know DARN well that I am 100% in to give it a try! Besides, I figured it'd work pretty well given all the components of the dish and, guess what, it did NOT disappoint. Ladies and gentlemen, we present to you: The Pellet Grill Addicts Grinder Burger!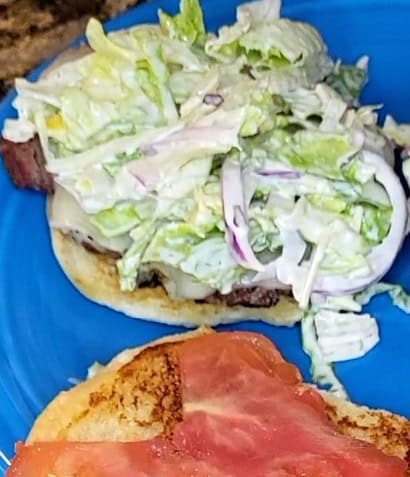 Ingredients
You'll want to stick close to these flavors and ratios, which are enough for four beautiful burgers!
Two pounds of fridge cold 80/20 ground beef
4 tbsp of cracked black pepper
4 tbsp of kosher salt
2 tbsp of garlic powder
2 tsp of worchestire sauce
4 slices of havarti cheese
4 cups of shredded lettuce
A handful of thinly sliced onions
8 banana peppers; chopped
1 tbsp of shredded parmesan cheese
4 tbsp of mayo
2 tbsp of red wine vinegar
2 tsp of garlic powder for the grinder mixture
2 tsp of black pepper for the grinder mixture
2 tsp of crushed red pepper flakes
4 slices of tomato
Instructions
Begin by setting your smoker to 250F
Remove your meat from the fridge and mix in the black pepper, salt, and garlic powder
Once that's thoroughly mixed, add the worcheshire sauce
Patty your meat; two pounds makes around four burgers for this recipe
Once your grill is at temp, place your burgers on the grill and insert a thermometer
Let them smoke until desired IT for your burger (about 45 minutes, for us!)
When burgers are close to desired temp, add the havarti cheese so it gets nice and melty
Remove from the grill and prepare the grinder mixture!
The Grinder Mixture
Mix the lettuce, onions, banana peppers, parmesan cheese, mayo, red wine vinegar, garlic powder, black pepper, and crushed red pepper flakes in a bowl
Place the finished mixture on top of your burger
Add a slice of tomato at the end
The Payoff
By now you'll have a successfully smoked burger covered in gooey havarti cheese, a mouth-watering grinder mixture, and a tasty tomato to enjoy!
Dig in and smoke on!