When you think of a breakfast sandwich, you're probably thinking of fast food or something from your freezer; but not this! This breakfast sandwich is a staple in our weekend brunch plans and, not to brag, but friends make excuses to come over early just to have one of these made for them!
We've built this sandwich around items we've either smoked on the pellet grill or made homemade and we're handing the recipe over to you to master and show off!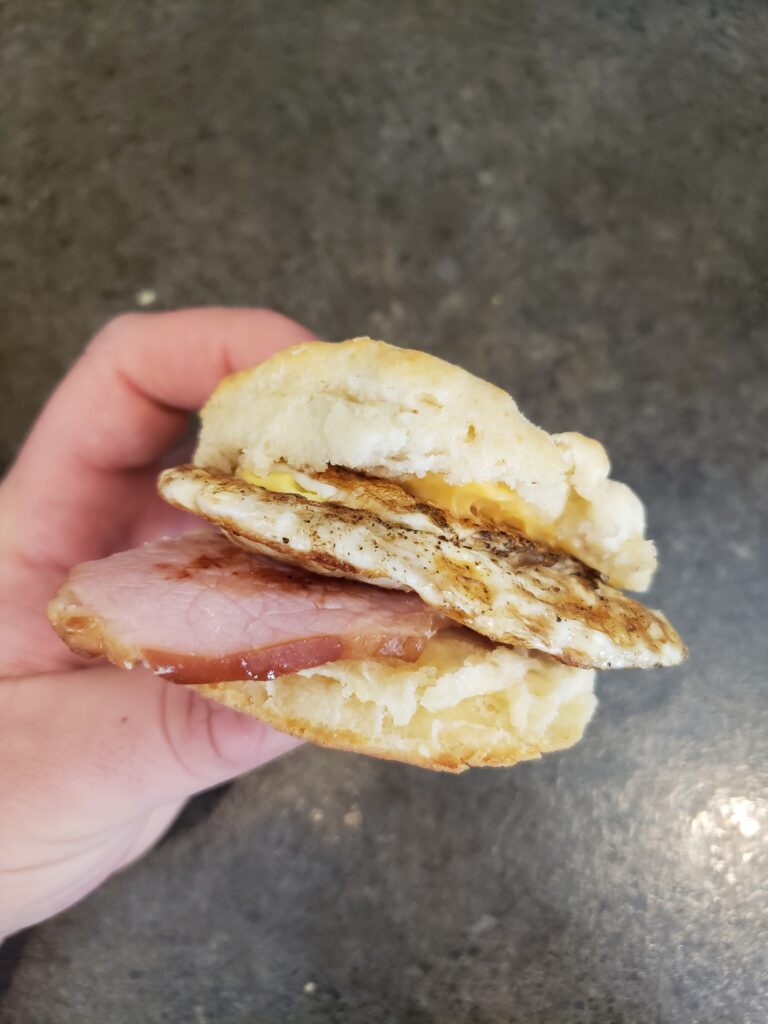 Ingredients
For one sandwich; amend portions for more sandwiches

One homemade biscuit

Check out my wife's homemade biscuit recipe on our site!

One large egg cooked YOUR way

I prefer over hard while my wife prefers over easy

Two slices of your homemade canadian bacon you smoked using our recipe
One slice of your homemade bacon, cut in half, you smoked using our recipe
One slice of cheese

We prefer kraft singles because of their perfect melting point

Pinch of kosher salt
Pinch of cracked black pepper
Hot sauce (optional)
Instructions
This one's all about the prep so have your ingredients out and ready to go

Warm your biscuit for a few seconds if it isn't fresh out of the oven
Place your canadian carbon on a skillet and sear both sides
Prepare your bacon the way you like it
Cook your egg to your desired technique

Season with salt and pepper
Just before finishing in the pan, drop a chunk of butter in the pan with it

Open the biscuit
Spread a little butter on both sides of the inside of the biscuit
Now we build:

Put both slices of canadian bacon on the bottom of the biscuit
Place your egg on top of that
Put the two halves of homemade bacon on top of the egg
Cover with cheese and let the heat from the warm biscuit and bacon melt it
Add some hot sauce if you'd like
Place top half of biscuit on top
Serve and enjoy!