Want to take a simple potato and elevate it to the star of the show? Look no further than smoking a hasselback potato! I will show you how you can easily impress your friends and family with a few techniques below!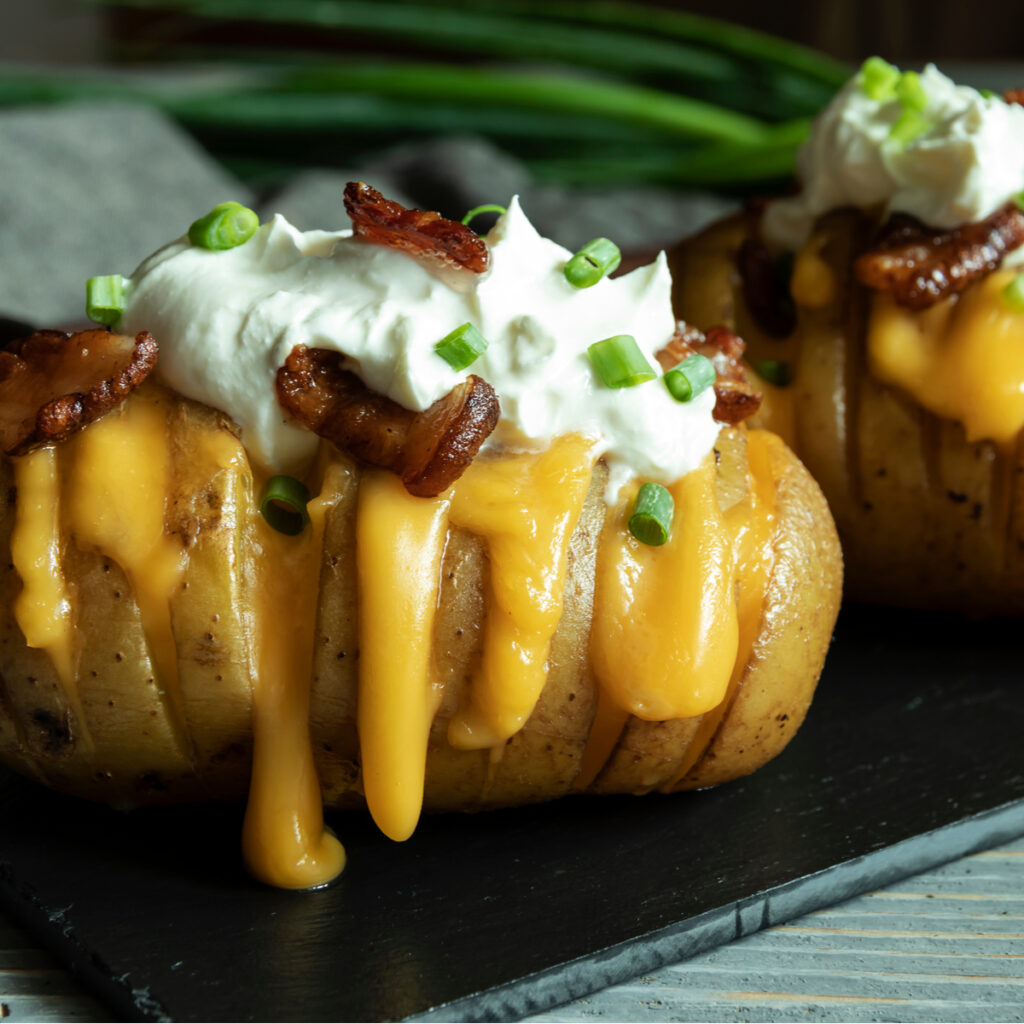 Ingredients
For one potato – adjust the recipe for as many potatoes as you need:
One large russet potato
One teaspoon Olive oil
One teaspoon melted butter
One teaspoon kosher salt
One teaspoon cracked black pepper
Green onion
Your homemade bacon; cooked
Sour cream
Cheese sauce
Utensils Needed
Parchment paper
Baking Sheet
Brush
Knife
Two chopsticks
Instructions
Start by thoroughly washing your potato in the sink to clean off any excess dirt
Pat the potato dry
Take your chopsticks and place them alongside your potato
Take your knife and cut thin (or thick if you prefer) slices into the potato

We prefer about 1/8 inch thick slices

Combine the olive oil and melted butter
Brush that onto the potato and into the cracks you have cut
Sprinkle the kosher salt & pepper all over the potato
THE COOK
Preheat your pellet grill to 450 degrees
Place baking sheet with your potatoes on the smoker and let run for about 50 minutes
The potatoes will be perfect when their internal temperature reaches 210
Handle the finished potatoes with caution; they are HOT!
TIME TO TOP AND ENJOY!
Let the potatoes cool at room temperature for 15 minutes before opening them up
MITCH TIP: Whether these are a meal on their own or for a side, they retain heat SO WELL that you can easily let these sit out for a while during the time you're prepping the rest of the meal
When you're ready:

Shake shredded cheese all over the potato and make sure it gets down in the cracks
Add some of your chopped homemade bacon
Add a dollop of sour cream
Sprinkle some diced green onion
Enjoy!